Series 23 Sliding Doors
(Internal and External - Through Fix)
The S23 sliding door is ideal for areas where a conventional door would impinge on the available space or fittings.
Made from robust marine grade aluminium, the doors are built to customer size and shapes to fit virtually any opening.
The doors are provided fully assembled, complete with sliding doors, top and bottom sliding runners and track; ready for installation.
Please let us know if you have any queries and we will be happy to help.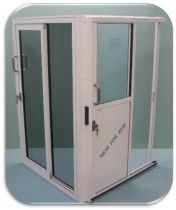 Product Datasheet