You are here:
> Products
> Series 24 Weathertight Door
Series 24 Weathertight Door
(Ocean / Offshore)
The Series 24 door is a heavy duty Weathertight door.
It has been styled to look elegant and simple, but it has a significant hidden strength.
This product can be made to fit your requirements. It has a 150mm radius, stainless steel dogs, shafts and handles, choice of finishes, can come with sound-proofing, locks which fit your needs and a choice of windows / port lights.
The standard Series 24 door is suitable for the galley, saloon, main deck and storage access installations.
Related Documentation / Spare Kits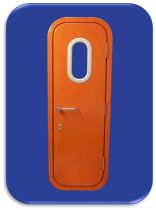 Marine grade aluminium

Welded frame and skin construction

Bolt in frame

Standard 4mm aluminium outer panel

Powder coated, silver satin anodised finish or a combination of both
Product Datasheet