Series 28 Watertight Door
(Ocean)
Our Series 28 door is Watertight and suitable for all heavy duty applications. It has a stylish appearance, yet it is strong and reliable.
This door is constructed from robust aluminium frame sections. The door is fitted with heavy duty cast handles to ensure there is a reliable watertight seal.
The Series 28 door is made to custom sizes, has a 3 or 6 dog option, has a link-operated dogging system, welded frame, 150mm radius corners, choice of finish, internal removable panel etc.
There is also the option of sound proofing, lockable from the inside only, glazed cast port and internal frame trim.
This door is suitable for engine rooms, watertight bulkheads and machinery spaces.
Related Documentation / Spare Kits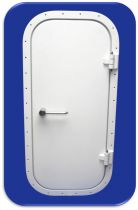 Welded frame and skin construction

Marine Grade Aluminium

Knife edge seal

As standard a 5mm aluminium outer panel

Bolt in frame

Floating hinge on 6 dog version

Dogs, shafts and handles are stainless steel
Product Datasheet