Series 29 Internal Door
(All areas)
Our Series 29 door are lightweight and easy to install. These doors are for internal use.
The Series 29 doors are mainly used and recommended for bathrooms, WC toilet doors and lockers.
They come in custom sizes, with a variety of frame widths and can accommodate bulk heads up to a 40mm thickness.
This product has a 'snap - in' frame, stainless steel hinges, a powder coated or mill finish and 100mm radius corners.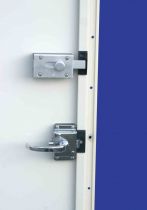 Marine grade fittings

Latch or Latch/Lock
Shower Door - Customised options
8mm Tinted Acrylic Door

Inward opening option
Toilet door - Customised options
Outward opening

White robust 25mm panel

Indicator bolt
Product Datasheet