You are here:
> Products
> Series 22 Lightweight Dogged Door
Series 22 Lightweight Dogged Door
(External - Clamp In - Dogged)
Our newest door, the Series 22 is designed to fall between our Series 21 and 24 doors in terms of outright 'weathertightness'.
Unlike the Series 21, this door can be (independently) dogged, but is lighter in weight compared to the Series 24 door.
This series is designed for use of commercial craft that operate offshore and in coastal waters.
The panel on this section is strong, rigid, light, insulated and has durability.
There are several design options to choose from. The options are single or double glazing, choice of finish, custom size window and locks etc. The finishes which are available are to suit your needs. These vary from having a silver satin anodised base, powder coating (in a colour of your choice) or a combination of both.
Related Documentation / Spare Kits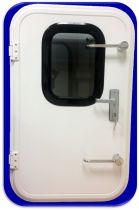 Product Datasheet