Seaglaze Hatches
(Traditional Weathertight Hatches)
Seaglaze Hatches have been specifically designed for use on inland, coastal and ocean going craft. They can be customized to meet your requirements, although we do have a standard size of 500 x 500mm made to order.
As standard we fit our own design of marine grade aluminium hinges and fittings. Our design gives a positive defence against leakage and the ingress of water.
At Seaglaze we use 6mm toughened safety glass for the glazing. This is available in clear, opaque or tinted.
Aluminium bars can be placed over the glazing on our hatches for additional strength and durability. The bars act as an additional layer of protection against scuffs and scratches occurring on the glass and act as a deterrent towards walking on the surface of the hatch.

The protection bars will always match the finish of the hatch (anodised or coated) unless otherwise stated and are a fixed width though a variable quantity may be used depending on the size of the hatch.
These hatches also come in a range of finishes. They can either have a silver satin anodised finish, powder coated to a colour that suits your needs or both (silver satin anodised base with a powder coated finish).
Related Documentation / Spare Kits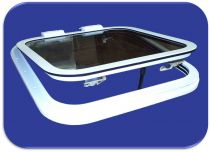 Made to Standard or Custom sizes

Pre drilled for countersunk No.8 tapping screws

Additional bars available

Adjustable stays can be added

Choice of glazing and finish
Product Datasheet