Clamp Shut Sliding Window
(Window, Clamp In, Watertight, Sliding)
The Seaglaze Clamp Shut Sliding Window is a market-leading sliding window that, when closed, is fully watertight.
Suitable for vessels operating in rough waters where a conventional sliding window would be inappropriate, the clamp shut sliding window uses a unique cam-lever system which locks the opening pane of glass tight against the seal when closed.
The window has been in-house tested to ISO12216 watertight standards as well as a proven product on workboats operating today.
A video of the window can be found here:
http://www.seaglaze.co.uk/pages/video_overviews.php
For further information please contact our friendly, professional sales team.
Related Documentation / Spare Kits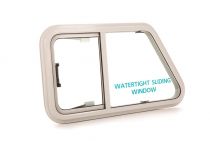 Product Datasheet