Series 12
(Clamp - in with visible or concealed fixings)
Series 12 is the heaviest and most robust Clamp-in section available.
This section is recommended for serious ocean going craft.
Series 12 differs from our other Clamp-in sections, due to the design of the frame. The frame is designed and manufactured so all the joints are welded prior to the glazing.
This results in immense strength, complete water tightness and the integrity of the frame not being compromised after the finishing process.
Series 12 accepts glazing from 8mm to 18mm thick.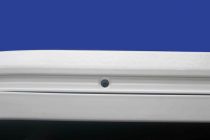 Watertight

Heavyweight

Strong

Custom Sizes

Finishes to meet your requirements
Product Datasheet