What is Through Fixing?
(Through Fixed Windows)
A Through Fix window is where the superstructure or hull is drilled to allow a fixing to pass through the boat window frame, and then into or through whatever the window is being attached to.
A Through Fixed window can be identified as such because the head of the fastening will either be visible on the surface of the frame (known as visible fixing), or hidden behind a strip which is set into the face of the frame section (known as concealed fixing).
With all Through Fixing frames, different trims are available as an optional extra, as are the fastenings.
If you would like more information, please contact a member of our sales team.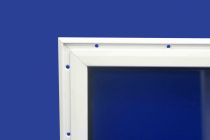 Product Datasheet